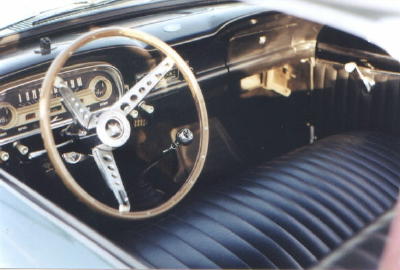 The 1963 V-8 4-speed Ranchero Registry tracks all 1963 year model Falcon Rancheros originally optioned with the 260 V-8 engine and Borg Warner T-10 4-speed transmission. At first blush you might think "why?". There must have been thousands of them built and plenty still on the road, right?
Well, there were 345,972 Falcons produced during the '63 model year including 18,533 Rancheros of which 12,218 were standard Rancheros (66A) and 6,315 were Deluxe Rancheros (66B). Ray Miller's book, Falcon The New Size Ford, states that of the total Falcon production for 1963, only 12.5 percent came with the optional 260 V-8 engine. That means that of the total production, only 43,247 Falcons came with a V-8 in '63. From that number, 15,081 were Sprints that all came with the V8 engine. The Sprints were 4 percent of total 1963 Falcon production so only 8.5 percent of remaining Falcon production in 1963 came with a V-8. If you were to take 8.5 percent of 1963 Ranchero production you would have less than 1,600.
Since the Futuras were much more likely to have a V-8 than a Ranchero the actual number is probably much less. Ray Miller's book also states that only 8 percent of total 1963 Falcons produced had a 4-speed transmission. This figure also includes the Dagenham 4-speed that was optional behind the 6-cylinder engines. Of course Sprints were much more likely to have a 4-speed than a Ranchero so not many would have come with the Borg Warner T-10 4-speed transmission. If you were to extrapolate total 1963 Ranchero production with the V-8 and 4-speed Falcon production percentages, you would come up with about 135 1963 V-8 4-speed Rancheros produced, (and that is being generous.) I currently have 62 of them in the registry which should be about 46 percent of total production. The registry started towards the end of February 2002, so even though small, the registry is doing pretty well. I currently have 40 trucks pictured. If you happen to have one, know of someone that has one, or just see one in a show please let them know about the registry or send me the VIN codes from the driver's door. Thanks and have a great Falcon day!